Chanuka Gift List 2007

Uptown Frum proudly brings you our first compilation, full of Chanuka gift ideas for every family member and friend.
May this Chanuka bring and spread light!
12 uniquely designed cards. Black satin ribbon included.
$18
Argyle V-Neck Sweater

A sweater is a classic gift. It's easy to find in the right fit, fits in a wrappable box, and looks a whole lot better for real than in the low-quality photo, above.


Blue, brown, green, rust, and winter peat shetland.
What We Have Here is a Failure to Communicate
She might not be a teen yet, but you know your baby's thinking, "No-one understands me".
It's what I'm getting myself for Chanuka, I think. Simple, freestanding, yummy color, and just enough hardware make this bag very pleasing indeed.
$248
The most awesome book for the creative, the innovative, and the interested. This is an awesome gift!

It shows the reader-- in artful photography and clear copy-- what people are doing to put their stamp on their world and get their ideas seen and heard.

$13.57
~

Light, beautiful, and effortless enough for your favorite 9 year old or your best girl.

Modest and sentimental. Shows you're listening.

$32
~

Sony Playstation 2

The latest in graphics, versatility, entertainment, and collaborative playing which, as we all know, both the amateur and the serious gamer enjoy.
$129.99

~

These panel-mounted prints are affordable, fully-finished copies of some pretty edgy, incredibly appealing art. Most powerful in groups, most welcome in a teen's room or used as a surprise in a traditional setting.

$20
~


Bentley Continental GT

This car, a reader recommendation, blew me away. The description, filled with words like "agile handling" and "outright performance" got me kind of enthusiastic. The fluid lines and hot classic styling make this our luxury pick.

~

Sophisticated, domestic, and gorgeous in-person.

They collapse for easy transport, but look adorable slung over your handlebars.
$34.99
~


Sister to sister. The one on the left is me and the one on the right is you. Happy Chanuka!
$3

~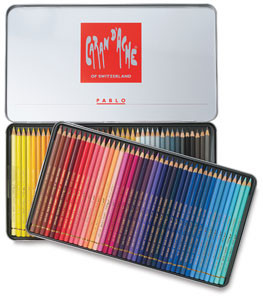 Caran d'Ache Pablo Colored Pencils

In twenty years he'll tell the press that you gave him his start.

Sets in increments of 12, 18, 30, 40, 80, or 120 pencils.

$19.99 and up

~
Some people truly are hardcore, and some of us aren't. It's funny for everyone, but funniest for us.

$25
~
~

No. 1 recommendation for no less than every woman on your list. It's the one luxury item that everybody can use and enjoy, because it's so versatile.

Great variety of colors for such an inexpensive version. Tip: The emerald is gorgeous on brunettes with light skin.